Open House at the Russian State Library
05.05.2017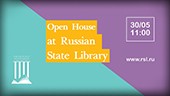 30 May 2017 the Russian State Library hosts the Open House for the specialists of libraries of Moscow and Moscow region. Traditionally, leading specialists of the departments of the RSL will hold tutorials devoted to a wide range of subjects of library activities, as well as training lectures.
The library carries out diverse and multidimensional activities. Nowadays readers are welcome to use its services within the library itself or on the Internet. Among the services there should be mentioned remote enrolment at the library, prolongation of terms for document usage for reading rooms, acquisition of redundant editions written off its collections, etc. Apart from stocking its collections with traditional paper copies, the Russian State Library would also broaden its funds with electronic documents. The Digital Library of the RSL offers its collections directly inside the RSL building, as well as through Virtual Reading Rooms located within other organizations and even abroad. Besides, readers are welcome to explore the RSL digital resources of the open access even from their homes.
The plenary meeting starting at 11:00 a.m. at the RSL conference room (3rd entrance, 2nd floor, 3/5 Vozdvizhenka St., Moscow) is going to be devoted to the following subject matters: transferring legal deposits of printed editions in the electronic form, architecture of the digital library of the RSL, stocking and providing access for users to electronic resources with a special attention to their contents. There will also be raised such an important theme as additional professional training (DPO) for specialists of the library and information sphere. The Educational Centre of the RSL will share its experience in realizing additional educational programmes this including with usage of remote educational technologies.
Within the framework of the Open House there are planned the following roundtables:
• "Dynamics of NDL development – contents, access and search capabilities";
• "Advancement of reference and bibliography services for users";
• "Public reporting of the library – art or bureaucracy?";
•
"
Interlibrary service in the modern information and library environment
"
;
• The roundtable with representatives of Dissertation Councils and the Department of research and teacher staff of the Ministry of Education and Science of the Russian Federation;
• The roundtable with representatives of the Apparatus of the High Commissioner for Human Rights in the Russian Federation "Library as a communication platform for legal informing, human rights protection and civic engagement".
The guests of the Open House are going to be offered a rich excursion programme.
The Internet broadcast of the plenary meeting of the Open House will be realized on the official website of the Russian Association of Digital Libraries www.aselibrary.ru.
10.00 a.m. Registration at the hall of the RSL conference room.
11.00 a.m. Plenary meeting (RSL conference room).
Admission is free.
The Russian State Library
3/5 Vozdvizhenka St, Moscow
3rd entrance, 2nd floor,
Underground stations: "Borovitskaya", "Arbatskaya", "Alexandrovsky Sad",
"Biblioteka imeni Lenina"
ATTENTION!
With registration
you are getting the agenda of the Open house which is your pass card around the RSL 30 May 2017.
Your questions are welcome by telephone (499) 557 – 04 – 70 add. 22 – 52,
e-mail:
IvanovaEA@rsl.ru