FOURTH INTERNATIONAL PROFESSIONAL FORUM "BOOK. CULTURE. EDUCATION. INNOVATIONS" ("Crimea 2018") Sudak, the Republic of Crimea, Russia, 16–24 June 2018
14.06.2018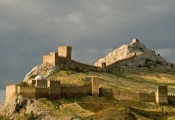 16 – 24 June 2018, the city of Sudak (Republic of Crimea) hosts the Fourth International Professional Forum "Book. Culture. Education. Innovations" ("Crimea 2018"). The main organizer of the event is the Russian National Public Library for Science and Technology.
The co-organizers are as follows:
•
Ministry of Culture of the Russian Federation;
•
Ministry of Education and Science of the Russian Federation;
•
Federal Agency of Printing and Mass Communications;
•
Non – governmental Ecological V.I.Vernadsky Foundation;
•
International Association of Users and Developers of Digital Libraries and New Information Technologies;
•
Ministry of Culture of the Republic of Crimea;
•
National Library Association Libraries of the Future (NABB);
•
National Library of Russia;
•
All – Russian National M. I. Rudomino Library of Foreign Literature;
•
Moscow State Institute of Culture;
Together with the inter-regional and local co-organizers which are:
•
Crimea Republican Universal Scientific Library named after I. Franko (Simferopol);
•
Republican I.Gasprinsky Crimean-Tatar Library;
•
Tourist Health Complex "Sudak" (ÒÎÊ "Sudak"), the city of Sudak.
Within the framework of the forum there are planned the following events: 25th Jubilee International Conference "Libraries and Information Resources in the Modern World of Science, Culture, Education and Business", 4th Museum Assembly "Preserving Traditions and Implementing Innovations" and educational symposium "Higher Education and Research Institutions within the Common Information Space". There are also going to be held 3rd Branch Conference "Publishing and Libraries – Vectors of Cooperation", 3rd General Conference of the National Library Association Libraries of the Future and International Conference on Global Ecological Problems devoted to the 155th Anniversary of V.I.Vernadsky's Birthdate.
The Russian Association of Digital Libraries will organize the Internet broadcast of the plenary meeting of the National Library Day and of section "Digital Libraries and Online Resources in the Modern Library and Information Environment". It will also carry out video shootings of a range of the forum events. All the video materials will be available on the official website of the Association over here
www.aselibrary.ru
.