Providing Service on Project «Antiplagiat.RSL»
30.11.2019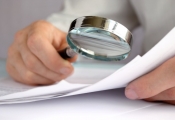 Since 22 October 2019
, the Russian State Library (RSL) offers all its users the service of «Testing texts for plagiarisms against full-text database
"
Digital Library of the Russian State Library
"
with usage of the
"
Automated system of specialized text-document processing
"
» with a report on the test results.
The essence of the service announced is the plagiarism test for scientific documents. The texts to be tested are verified with usage of the software specially developed for such procedures. The «Antiplagiat» company produced the «Automated system of specialized text-document processing» exclusively for the RSL. The software reveals the coincident fragments of the text downloaded and refers them to the sources of the full-text collections of the Digital Library of the RSL.
The result of the test submitted to the customer is a report performed on an official letterhead with signatures of the specialist and the authorized person.
The plagiarism tests realized at the RSL are based on the principles of the proper enforcement of Russian legislation and scientific integrity supported by the independence and impartiality of the specialists carrying them out.
You are welcome to view more details concerning the rules and order of service rendering, as well as on its price, on our website in section
«Antiplagiat.RSL»
.